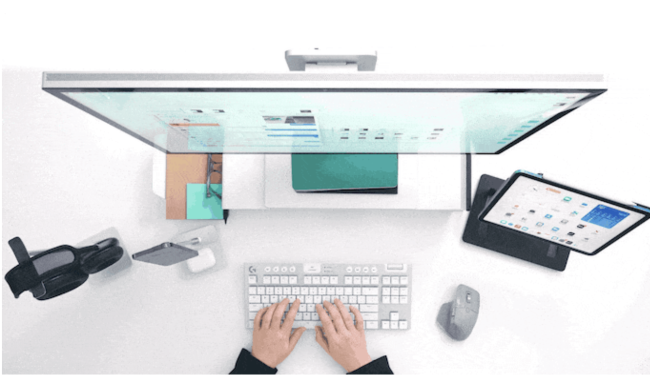 LAB22 is a series of stands for the iPad, iPhone, and AirPods Max. The iPad stand is compatible with 11-inch and 12.9-inch iPad Pros and the iPad Air 10.9-inch model.
Your iPad attaches magnetically to the stand with the magnets being strong so that you can use the iPad for drawing/typing or as a second screen without the worry of it slipping off. The plate it rests on is fully covered with microfibre so that the contact isn't metal to metal which could leave scuffs.
The hinge on this iPad is also strong and has 9kgf-cm of torque to hold the iPad in whatever position needed. Briefly, 9kgf-cm is related to how much force is needed to move the iPad on its hinge. Too much, and it won't move. Too little, and it would drop down and never stay put. The stand can fold down at any angle and move back up, and the plate is also rotatable allowing you to switch between portrait and landscape modes easily.
Moving on to the iPhone stand. Just as the iPad stand, it also has a microfibre cover over the metal plate to protect the back of the phone. It also has strong magnets to hold the newer MagSafe iPhones in place. An awesome thing about the iPhone stand is that it has Qi-Compatible charging not just for the iPhone but also for a set of AirPods that can rest at the bottom of the stand. The magnetic plate isn't rotatable like the iPad, but only because it doesn't need to be. You can attach your phone in either portrait or landscape mode.
The AirPods Max stand doesn't have any special functions other than it's just a simple way to store your headphones when not in use. The stand itself looks awesome and fits in well with the iPhone and iPad stands.
The project is on Kickstarter at the moment and has already smashed through its modest goal of $10,000 USD. As it stands now, its at $141,542 with 707 backers and 24 days to go. The creator expects shipments to start in January 2023, or potentially earlier if production and shipping are faster.
The project has been organised by Sara Dietschy, who runs a popular YouTube channel. Full details of the project can be found on Kickstarter.